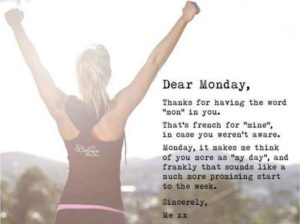 Got a bad case of the Sunday blues? Does the word Monday send shivers down your spine? It's not terminal! There is a cure for Mondayitis and it's called preparation people. Prioritize these preparation prescriptions, kick those Sunday blues and reclaim your Monday!
Workout
No surprise there huh 😉 Burn off that weekend cheat food and alcohol and you'll feel more energized and clear-headed on Monday morning.
Sunday Snooze
Make your Sunday night a sanctuary for sleep. Make sure you have dinner early, and do whatever you have to do to get to bed early so you get at least 8 hours sleep. And remember, no blue screens in bed!
Monday Motivation
If there is ever a time to refocus on your goals it's Monday morning. Take 5 minutes (or as long as your schedule allows) to meditate and or stretch, and visualize your goals and drivers. Clarity leads to efficiency, efficiency leads to success, and success makes Mondays happy again.
Allocate Don't Prevaricate
Don't spend the whole weekend working. You'll likely not actually be that productive anyway. Allocate as many hours as you think you really need to get on top. Eliminate all distractions during that time allocation. Have a minimal list of objectives and DO NOT WAIVER until they are done or your time is up. This razor sharp focus prevents you from half working the entire weekend, not getting much done, and not having much fun either.
Get to work early
Sure it's easier said than done. But if you can get to bed early enough the night before, nail those couple of important work tasks you allocated and are riding high from the workout energy you've got from your Sunday session, you've given yourself every chance of getting to work early. If you can swing it, you'll have a little psychological edge and that extra bit of time to dominate those Monday curveballs.
Siobhan xx