Cellulite Treatment and Cellulite Removal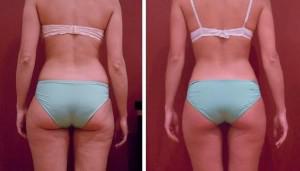 It's fairly safe to say that no one wants to have cellulite. The problem has been that, in the past, cellulite treatment and cellulite removal methods weren't much to get excited about either. They usually involved painful and invasive treatments (such as needles), or applying creams to your skin that had a whole bunch of toxic chemicals in them.
But those days are gone! At Hypoxi, we have effective anti cellulite treatments that are non-invasive and free from toxins. What's more, you can even target specific areas of your body to remove cellulite from, including your:
So come in and check out Hypoxi Body Boutique Newstead—we're experts at cellulite treatment that works.
Where does cellulite come from?
What causes cellulite—the fatty deposits under your skin that make it look lumpy and dimpled—isn't always easy to determine. It can vary from person to person, but includes things like your:
hormones
genetics
exercise
diet.
Working out what may have caused your cellulite is one thing, but trying to get rid of it can be an altogether different challenge.
Can I reduce cellulite by losing weight?
You can reduce your cellulite by losing weight. But keep in mind that general exercise on its own (e.g. running or lifting weights) doesn't target cellulite specifically. So it can never be as effective as our Hypoxi cellulite vacuum therapy machine.  Exercise for cellulite reduction works in our machines because of the vacuum.
When you exercise, your body decides where to burn fat from—giving you no say in the matter. But when you use our special cellulite treatment vacuum machines, you put yourself back in control.
Remember: people of all different weights can have cellulite. If you are in a healthy weight range, or even skinny, trying to lose weight in an attempt to remove cellulite is likely to be even less effective, and potentially unhealthy.
We suggest you try our Hypoxi Dermology.
How can I remove cellulite?
Removing cellulite isn't easy. Which is why we developed our range of programs and machines.
For example, our Cellulite Treatment, Skin Toning and Firming program will help remove unwanted cellulite and target certain parts of your body.
Best exercise for cellulite
If you really want to treat and remove cellulite, you need to target it. And the best exercise to target cellulite is using our Hypoxi L250 – Vacuum Weight Loss Machine.
This incredible machine targets fat deposits and cellulite on the places you least want it, like your thighs, hips, lower stomach and bum.
In fact, studies have shown that with our Hypoxi L250 you can lose up to 3 times more (in circumference) from specific body parts than you would with regular exercise.
If you'd like to find out more about these scientific studies, as well as what the media and celebrities are saying about our Hypoxi treatments, visit our independent research page.
Vacuum machines for cellulite removal
Hypoxi Newstead has 2 different vacuum machines to treat cellulite: Hypoxi Dermology and Hypoxi L250.
We recommend treatment using both machines for quick and effective cellulite removal results.
Women and men can use our cellulite treatment machines.
Hypoxi Dermology
The Hypoxi Dermology machine is the kind of pressure chamber you want to find yourself in. It has 400 interconnected chambers that work by stimulating certain areas of your body. In some ways it's similar to Chinese 'cupping' treatments.
What's more, it's pain-free, non-invasive, and doesn't require physical exercise.
Each Hypoxi Dermology session lasts 20 minutes. Why not use the spare time to relax, meditate, or even reply to a few emails on your phone?
Want to know more about our cellulite treatment and cellulite removal? Visit our Hypoxi Dermology  vacuum machine for cellulite page.
Hypoxi L250
The Hypoxi L250 machine makes a standard exercise bike look about as modern as a horse and cart. While on the machine, it uses your cycling motion and combines this with vacuum technology to help you lose weight and remove cellulite from targeted areas.
These appointments last 30 minutes.
You can read more about this on our Hypoxi L250 cellulite vacuum machine page.
Before and after Hypoxi cellulite treatment
The proof is in the…err, photos? Our treatments to reduce cellulite really work.
To see some of the incredible results from Hypoxi's cellulite reduction treatment and cellulite removal treatments, check out these before and after images of some of our clients.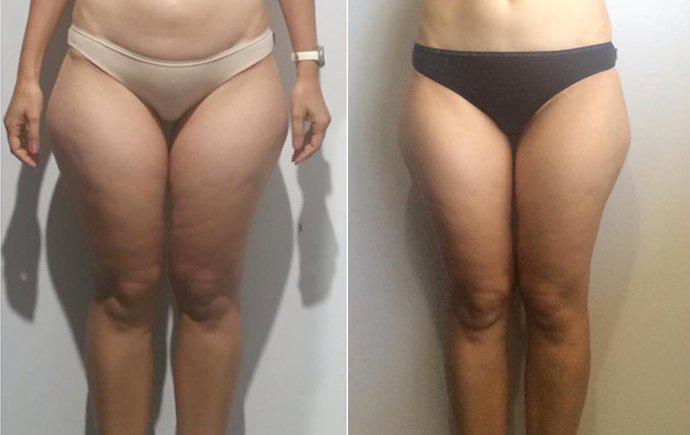 You can see more of these before and after pictures on our Hypoxi Testimonials page. For more info on our treatments to get rid of cellulite contact us or book a free trial