Welcome to Our Studio and Wellness Centre
Hi, I'm Siobhan White, owner of HYPOXI Newstead. I have always wanted to create a studio that was about more than just weight loss. I wanted it to be a wellness centre that could improve people's confidence and help them create new and healthy habits. And with HYPOXI Newstead, I have.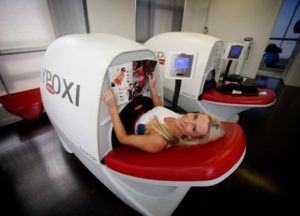 My passion is helping to change people's lives through physical health. Through my personal fitness journey, as well as in my role as owner of Hypoxi Newstead, I have experienced firsthand the impact that physical fitness can have on your quality of life.
I'm driven to help you reach significant life goals through physical health and general fitness. I'm passionate about this because I've seen incredible results among people who have come to our studio, and the profound impact it has had on their lives.
I have also experienced the benefits of HYPOXI in my own life. After I had my son, Max, HYPOXI helped me lose 10kg in less than 3 months. As a result, I changed from a size 14 to size 8.
This life-changing experience inspired me to share the HYPOXI benefits with other people at my HYPOXI Newstead studio and wellness centre. Here we offer special HYPOXI training and therapies that can help women and men achieve swift results, no matter what age or fitness level.